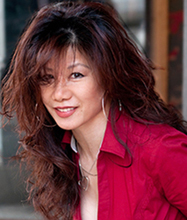 Jennie Yip's beautifully rendered artworks evoke a dreamy, sensual elegance of exquisite artistry. She works with world renown clients such as Edelman Global Marketing, Unilever Global, TRESemmé, Nexxus Salon, L'Oreal, Coors Brewing Co, Eva Scrivo Salon, Love Beauty and Planet, Pearl Media, Microsoft, Mon Purse, McCann Erickson, Ogilvy & Mather, Clairol, Revlon, RJ Reynolds, to name a few. Her illustrations are used for T.V. commercials, national ad campaigns, as well as on licensed products. Among her achievements are three(3) national jury-exhibitions from the Society of Illustrators' Museum of American Illustration, N.Y. and a 1999 retrospective sponsored by the Fashion Art Source and Fashion Institute of Technology. Her interests in art and beauty in all forms and imperfections, humanity and design are additional pathways to her creative expressions. Jennie holds a BA with honors from Marymount Manhattan College. She's graduated Cum Laude and Summa Cum Laude from the Fashion Institute of Technology.
CURRENT & RECENT WORK:
Currently working on two(2) logo identities for a private client, MK. New brands: "Love The Human" and "My Little Humans".
Recent finish on the branding recreation of "Curl" art for Eva Scrivo Salon in b&w and color.
Sole Illustrator for StyleLingua, a quality and sophisticated styling service for professionals to launch in late-Summer, 2019!
Art Teacher at the New York Chinese School, 109 year old charter school.
Recently finished a short animation for Eva Scrivo Salon's BPS/CoolSculpting set to launch mid to late 2019!
Staffed at CREATIVE CIRCLE – an international staffing company.
Concept & storyboard artist for GRACE CHANG Films.
PAST WORK:
Illustrated numerous illustrations for EDELMAN and CREATIVE CIRCLE for TRESemmé at the NYFW 2017 & 2018 and for LOVE, BEAUTY & PLANET for their event 2018.
Created over fourteen(14) new and re-design tofu labels for KONG KEE FOOD with her assistant.
Artist at MON PURSE for customized paintings for their fine-leather goods, 2017. An international company based in Australia.
Art Teacher/Coach for A.S.D.C. LLC, an online subscription for video art lessons.
Production Assistant on art and design for GRACE CHANG MEDIA's "The Chang Family Teahouse" theater production, 2016-2017.
A two-day ideation session for a major pharmaceutical company.
Live-drawing for GUESS/MARCIANO on location, July 2016.
Created a series of illustrations for UNILEVER GLOBAL's launch of the first NEXXUS SALON Hair Care.
A special oil-paint portrait, "Mother and Son" originally commissioned by Dr. Leong Ying was chosen for the cover of Dr. Ying's new memoir "From Newton, Einstein to GOD", published in 2015. The book is WINNER of the 2015 Next Generation Indie Book Awards in the Memoirs category.
One of seven distinguished panel speakers and one of fifteen noted illustrators for the successful "One World Different Strokes" exhibition at the Taipei Economics and Cultural offices, May 2015.
Illustration for "Metropolicks", a new romance and dating novel by co-authors Felicia Lin and Victor Scott Rodriguez, launched in 2015 with great success in social media! Asked by the co-authors to partake in the video-marketing and promotion for Hong Kong as part of their Asia Promotion Campaign.
Sketched at the Creative Brainstorm Meeting at UNILEVER (N.J.).
One of the portrait artists for MICROSOFT's launch of WINDOWS 8 FRESH PAINT at NBC's broadcast of the Presidential Election 2012.
Completed ninety-eight(98) illustrations and drawings for Celebrity Stylist, EVA SCRIVO for her high-profile book "Eva Scrivo on Beauty" published by Atria/ Simon & Schuster. Its digital version is the WINNER of DBW's Enhanced Ebook.
Six(6) illustrations were chosen by Martin Dawber for their 1st coffee-table sized book, "BIG BOOK OF FASHION ILLUSTRATION" in 2008.
Brainstormed with COCA COLA's marketing team and sketched concepts for their 2014 VITAMIN WATER campaign.
Featured and highlighted in Marymount Manhattan College's "ALUMNI MAGAZINE" in 2008.
Interviewed by eLIFE Magazine for their featured article & podcast on "BRANDING ART & ELEGANCE" in 2007.
Featured in the Fashion Institute of Technology's annual "LOOK BOOK", the alumni segment of this view book of the college's past, present and future. Additionally, for F.I.T.'s Annual Recruiting Campaign and newsletters.
One of the twelve(12) artists for the NUbreed event, a salute to the synergy of the arts at LINCOLN CENTER in 1996.
Represented in Japan and Asia for Illustration by CROSS WORLD CONNECTIONS International Illustration Agency | 10-7, Daikanyama-cho Shibuya-ku | Tokyo 150-0034 JAPAN | Email: job-request@cwctokyo.com | Phone: (+81 3) 3496 0745/0746 | Fax: (+81 3) 3496 07477
Represented by METCOLORS, LLC, for worldwide art licensing of wall decor art
View the eLIFE Magazine feature article on Jennie!
PARTIAL CLIENT LIST
Ad Agencies:
Edelman Global Marketing; McCann Erickson; Ogilvy & Mather; Publicis; Bozell; FCB/Leber Katz Partners; Young & Rubicam Inc; BBDO Worldwide; J Walter Thompson; DCA Advertising; Flair Communications; DDB Needham NY.; Grey Advertising; AC&R Advertising;
Corporations/Retailers:
Unilever, Nexxus, Microsoft; 24 Seven; The Creative Group; Handycraft LLC; City Frame Inc.; L'Oreal; Linda Colombo; Dr. Leong Ying; Kong Kee Food; Lea Kui; METcolors; Eva Scrivo Salon; MJJ Brilliant Jewelers Inc; Stephen Dweck Diamonds; Coty/Lancaster Grp.; Bath & Body Works; World Character; JC Penney; K-Mart; Polo/Ralph Lauren; Joseph Abboud/HMX, LLC; Clearasil; Lord & Taylor; Papyrus; Just Looking Gallery; Crystal Art Gallery; World Character; Wireless Week; Daily Guideposts; RJ Reynolds; Adidas; Clairol; Revlon; Danbury Mint/ MBI, Inc; Lancome; Bloomingdale's; Charles of the Ritz; Avon; Valentino; Gucci; JC Penney; Butterick Patterns; Macy's; Elizabeth Arden; Diane Gilman; Danskin; DuPont;
Good Housekeeping; Gianfranco Ruffini; Norton & Co.; WWD; DNR; Oscar De La Renta
LINKS
fashionartbank.com
World Character
gag.org
illustratorspartnership.org
NOTABLE ACCOMPLISHMENTS
Donating two(2) artworks for KLYSTAR's charity art auction for World Peace Organization on Oct. 12, 2015. Art auction will be filmed by producer and director, Richard S. Kaufman as inclusion for a documentary.
Full color illustrations and B/W drawings for UNILEVER GLOBAL's NEXXUS NEW YORK SALON account – used for innovative Interactive Mirror.
Commissioned oil-paint portrait chosen for cover art of DR. LEONG YING's Award-Winning 2015 Memoir, "From Newton, Einstein, to GOD" by NEXT GENERATION INDIE BOOK AWARDS.
Full-color illustration for METROPOLICK'S, a new romance & dating book by co-authors Felicia Lin & Victor Scott Rodriguez, published in 2015.
Brainstorm with COCA COLA's marketing team and sketch concepts for Vitamin Water 2014 campaign
Portrait artist for MICROSOFT's launch of WINDOWS 8 Fresh Paint and NBC's broadcast of the Presidential Election 2012
70+ artworks for METcolors LLC worldwide art licensing
New "iTofu" label design for Kong Kee Food Corp, release in 2014
New "Egg Tofu" label design for Kong Kee Food Corp, 2013
LK commissioned Portrait, "Portrait of Gary" April 2012
LK commissioned Portrait, "Father's Day" June 2011
LK commissioned Portrait, "Valentine's Day" February 2011
"Love, Live, Share" Art Party- Group exhibition at Natsumi Lounge, 2011
"Eva Scrivo on Beauty"- High-profile book by celebrity stylist, Eva Scrivo | Eva Scrivo Salon on hair, make-up, skin-care & fashion. Published by Atria | Simon & Schuster, April 2011 Book is also winner of Publishing Innovation Awards' Enhanced Ebook
Publishing Innovation Awards
Marymount Manhattan College's "Alumni Magazine" – Highlighted in 2008
"Big Book of Fashion Illustration" – A coffee-table sized book showcased six of my illustrations, 2008
eLIFE Magazine Featured article & podcast "Branding Art & Elegance", 2007
Society of Illustrators' "Prevailing Human Spirit Exhibition" – An exhibit to benefit the victims of September 11th Disaster. Painting:"Rhythm", 2002
Society of Illustrators' "41st Annual Exhibition" – A national & international juried show. Chosen painting:"Jazz Band", 1999
A "Retrospective" at the Fashion Institute of Technology – A slide presentation & talk sponsored by the Fashion Art Source and Fashion Institute of Technology, 1999
"NUbreed" – A salute to the synergy of the arts at Lincoln Center. Painting:"Gucci", 1996
Society of Illustrators' "Best of Fashion and Beauty Illustration Exhibition" – A national juried exhibit. Chosen paintings:"Rainbow Bubbles" and "Green Roses", 1994
Fashion Institute of Technology's annual "Look Book"- Featured in the Alumni segment of this view book of the college's past, present and future. Also featured in the Annual Recruiting Campaign and newsletters